1 avril 2011
5
01
/

04
/

avril
/

2011
22:30
McLaren's extreme testing programme subjected the MP4-12C to altitudes of up to 12,000ft and ambient temperatures from scorching to well below freezing.
Arfeplog, Sweden: January 2009
The MP4-12C had its first major climatic test when McLaren engineers took one of the early 'XP' experimental prototypes to the Artic Circle in the depths of winter 2009.
"Between testing the warm-up behaviour of the car, signing off its Pirelli winter tyres and tuning its ESP for winter driving, we did a lot of basic verification to make sure door seals, window seals and door handles didn't crack", explains development team leader Andy Beal. "Most of our running was done in temperatures minus 10 and minus 20 degrees, the later being the coldest we expect to get optimal performance from the car. But we did limited work as cold as minus 32 degrees. At those temperatures, tyres literally freeze to the spot if you leave the car standing too long.
"We were keen to find out whether snow ingress into the engine cooling ducts would be a problem. Unfortunately, that meant spending hours drifting it around on frozen lakes. But we were big enough to take one for the team on that."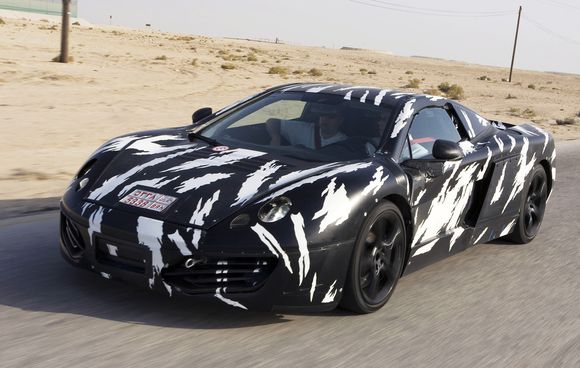 Sakhir, Bahrain: August 2009
At the height of summer 2009, McLaren's development schedule took Beal's team to the Sakhir circuit, home of the Bahrain Grand Prix.
Their work here was dedicated to hot weather testing. A week on the circuit enabled them to test the performance of the MP4-12C's air conditioning system running at high speed in temperatures above 50deg C, as well as to optimise the cooling of the MP4-12C's engine, specifically its turbos.
"When the track temperature is above 60deg C, you can't do meaningful handling tests at Bahrain; the tyres immediately overheat," says Beal. "We focused on fast laps to test engine and brake cooling. We also developed a simulated hill climb test which involved towing a weight behind the car in a low gear, with maximum engine load and little airflow into the radiators.
"This was our last 'big tear-up' of the car mechanically," Beal concludes. "We came out of Bahrain with revised charge cooling, fan placement and thermal insulation, as well as with HVAC [ventilation] improvements and better cabin sealing."
Yucca, Arizona: August 2010
By summer 2010 the MP4-12C was at verification stage and engineers took VP11 to an airbase-turnedproving-ground just off America's Route 66, near Yucca, Arizona, for hot weather sign-off.
The development team spent two and a half weeks repeating hot weather tests they'd first performed in Bahrain, testing the effectiveness of the MP4-12C's climate control system at ambient temperatures up to 46deg C. "A lot of our verification test cycles are designed to mimic typical use," explains Beal. "So we ran slow, stop-start cycles to simulate town driving, repeated full-bore launches to simulate 'traffic light grands prix'; high-speed autobahn patterns too."
Being in the western USA also gave the team the chance to test the MP4-12C at altitude – specifically up at 9500ft, driving to Flagstaff, Arizona. "At altitude, the air's thinner and cooling systems become less effective," says Beal. "It was important to find out that we weren't overspeeding the MP4-12C's turbos; we did some performance driving on dirt roads to establish that."
Weeks earlier in Spain, near Granada, McLaren's development trail had taken the MP4-12C up to 12,000 without issue.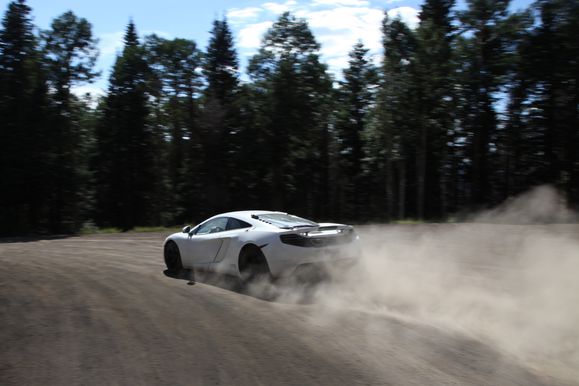 Article published in Autocar special edition dedicated to the MP4-12C