17 mars 2011
4
17
/

03
/

mars
/

2011
22:00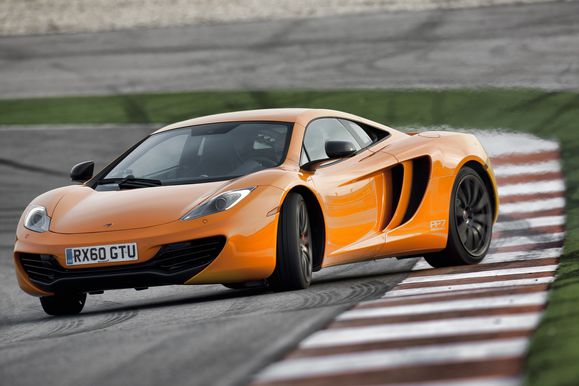 A selection of some remaining articles dedicated to first drive reports, with extracts which focused my attention.
Climb in and it's clear that McLaren has shaved every detail to keep the width of its supercar down to manageable proportions. Even the navigation is turned sideways in interests of maintaining a skinny center console. There's plenty of room for two, though, with a great driving position, thanks to multi-adjustable seats and steering, and there's even space for a couple of small bags in the trunk.
Driver's Grievance: Scissor doors might look supercar sexy, but they also add a couple of feet to the width when they're open. Those doors and their impossible-to-find openers (instead of a handle, there's just a button under the body crease) make it as difficult to get into this car as it is to get out of.
Not much to report here, many common thoughts. So I'll focus on the section related to design:
Honestly, in our eyes, the MP4-12C looks comfortingly most influenced by the legendary McLaren F1 built from 1993 through 1998. We imagine a few mouthbreathers criticizing the design as a "total rip-off of the Ferrari 458 Italia and Lotus Evora." We take comfort in the fact that these individuals are wrong.
These bold lines can be polarizing, we know. Such aggression – for us the gaping twin side air intakes to the engine radiators stand out – are bound to cause both heated and cooler reactions. But, c'mon, it's mostly hot. The only other spot where we paused, folded our arms, and acted like we were pondering something we knew a lot about, was the rear fascia. Its flushness of all elements seems a bit out of rhythm with the rest of the car. Not even a slightly protruding exhaust blunderbuss. Still, it's pretty hot...
A few more comments about the chassis and its ability to cope with bumps:
McLaren is keen to demonstrate that the 12C is not a one-trick pony that's been engineered entirely on a race track. It's not often your first taste of one of the fastest cars on the planet comes through tight streets, stop signs and potholed roads. But the McLaren is surprisingly compliant over very second rate surfaces despite the ultra low profile Pirelli tyres (19-inch in diameter at the front and 20-inch at the rear). It's also good at keeping its nose clear of dips and undulations that can often scar the underside of a high performance machine.
Some comments about the wet conditions handling:
A tight and greasy right-left-right combination off the end of the main straight is the perfect challenge. Even in the wet when it's thrown at a tighter corner it manages to tuck itself in and scythe through the bend with the sort of precision that can add a touch of Schumacher - or Lewis Hamilton - to the whole equation.
The introduction of the article is very interesting, for the rest, you can follow the above link to read it completely:
Clinical. It's a word that pops into your mind with remarkable frequency when asked to describe what the new McLaren is like to drive.
Is it a fair word to choose, considering how mind-alteringly good the MP4-12C is at just about everything it does? It depends entirely on your own personal expectations - both of what a car like the 12C should be like, and on what the word itself actually means.
For some, clinical will mean cold, grey and unemotional. For others it will mean efficient, effective, and devastatingly capable. Either way, there are certain facts about the new McLaren that are unequivocal.
One, at £168,500 it is cheaper - just - than its arch rival, the Ferrari 458 Italia.
Two, with 592bhp and 442lb ft courtesy of its 3.8-litre twin-turbo V8 engine (and weighing at least 50kg less than a 458) it's also faster than its nemesis from Maranello. Quite a lot faster, truth be told.
Three, beneath its slightly beige looking yet classically styled mid-engined supercar exterior, it's one of the most technically advanced road cars the world has ever seen.
And four, despite the vaguely Teutonic association one tends to make with the name McLaren Automotive (entirely unfair, of course), the MP4-12C itself is a 100 per cent Great British creation. Which is important, what with the British car industry having abandoned its greatness at around about the same time that Steven Spielberg decided to make a film about a very big fish.
The problem with creating a car that's so obviously aimed at the very best - yet which is a first-time effort from a brand new company, remember - is that unless you succeed on every level, you run the severe danger of being accused of failure; of not delivering on the promise. Yet at the same time there can be no greater motivation in life than knowing precisely what you have to beat, and that's primarily why the 12C is what it is; and, more to the point, is as good as it is.
That might seem an easy statement to doubt, but throughout the full range of driving conditions experienced on the day—dry and sweaty track conditions, various local roads, comfort and track configurations for the car—we came away knowing that McLaren has achieved a major breakthrough, by anyone's measure.
The author is maybe the most critical so far. His comments, first on the design:
And then there's styling, and here the 12C collapses under the weight of its other priorities. Never mind thrilling. This is not even an interesting car to look at, with little amplitude or sculpting in the body and a pro forma supercar profile nicked off an eighth-grader's spiral-notebook cover. The 12C's signature design flourish is the massive engine-cooling gills ahead of the rear wheel arches. At some angles these make the car look like its being overtaken, being consumed, by a Dyson vacuum.
Then on the "clinical experience" of the car:
And so you have a car that might be taken as a mirror of Mr. Dennis himself. Utterly vanquishing, innovative, a masterpiece of reconciled engineering and accounting. Obsessively compulsively brilliant. And yet oddly flat in affect, a strangely clinical exercise in high-speed, low-altitude mathematics. In performance and dynamics, the McLaren has it all over the Italia. But the Ferrari is emotional, visceral, a whistling scythe of car that cuts off the top of your head and pours in pure automechanical pleasure. The McLaren delivers telemetry.
And so, ironically, you may not want the best sports car in the world. Crazy, huh?
A few words about the interior:
Entry is via tall, free-swinging gullwing doors activated by a sensor that you 'swipe' in the manner of an iPad. The broad, carpet-covered sill is easily negotiated (and makes a handy 'seat' itself, with the doors open – I liked that). Naturally, every car can be trimmed to suit the owner's taste – with more bespoke work available on demand – but the first impression is of just the right level of high quality leather/alloy/carbonfibre; think Bang & Olufsen, if they made cars. A pure design, classily executed. I loved the leather: not too soft, not too hard with a wonderful, fine-grain, 'satin' finish.
The driving position is perfect. Straight legs, wheel very vertical in plane and the seat super-comfortable for road or track. Setting off is a simple 'foot on brake, pull the paddle into first and press the throttle'.
McLaren hasn't only launched a new supercar; it's created a new supercar company. Its first creation, the MP4-12C, is aimed squarely at the Ferrari 458 Italia. A few laps of Silverstone suggest it is more than up to the job.