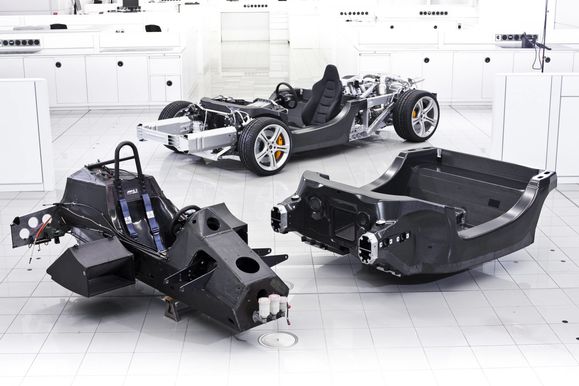 McLaren is a carbon pioneer. In 1981 McLaren Racing introduced the carbon monocoque to Formula 1: it offered an unbeatable combination of strength and lightness. The monocoque had an immediate dynamic impact, with John Watson winning that year at Silverstone, and also proved a very effective safety cell when Watson walked away from a dramatic high-speed crash at Monza. Within just a few years, every other Formula 1 team on the grid had followed suit. The Vodafone McLaren Mercedes Formula 1 team will compete in 2011 with McLaren's 200th carbon fibre chassis.
The legendary McLaren F1 sports car was the first road car to feature a carbon chassis when it launched in 1993. Two years on, a McLaren F1 entered the famous Le Mans 24 Hours endurance race and won on its debut. F1s also came 3rd, 4th and 5th. From 2003-09, McLaren worked in partnership with Mercedes-Benz to produce the carbon-based Mercedes-Benz SLR McLaren. With 2,153 SLRs manufactured in its seven year production run, the SLR is the most successful car in the£300,000+ price-point and the most successful of any car built on a carbon chassis.
Now, the McLaren MP4-12C takes carbon innovation to a new level. And offers a design and production process that could see the benefits of carbon fibre chassis' cascaded down to even more affordable cars.
Mark Vinnels, Programme Director at McLaren Automotive, said: "With 30 years experience in carbon technology, the physical benefits of carbon are well known at McLaren. What we are now progressing, on the 12C and future models, is making serious in-roads into economies of scale without reducing quality.
"The goal, that we are confident we have achieved, is to bring supercar performance to a new market, combined with never-before achieved levels of efficiency.
"Having met many of our future customers around the world, there is no doubt that those in the market for high-performance sports cars are looking for cars that offer more than just looks and power. Innovation, technology, and accessible performance are in demand. We believe that the 12C, with a one-piece moulded carbon chassis at its heart, heralds a new future for sports car design," Vinnels concluded.
Weighing just 75kgs (165lbs), its composition and construction process were defined by the McLaren Automotive Body Structures team at the company's headquarters in Woking, UK. The concept required it to provide the perfect combination of occupant space, structural integrity, light weight, and relatively low construction costs:
- The 'perfect' occupant space as regards driver positioning and safety
- The structural integrity and dimensional accuracy to form the bedrock to segment-beating performance
- Light weight to contribute to great handling and step-change CO2and fuel consumption figures
- A new construction process that would reduce typical carbon chassis manufacturing costs, yet supported all of the performance targets in order to bring carbon benefits from the £300,000 plus market to sub-£200,000
McLaren Automotive contracted composite experts, CarboTech, to refine the production process, and bring to market McLaren's ambitions. Presented with a working concept based on 50 McLaren-made MonoCells, the Austrian company was challenged to help revolutionise carbon chassis manufacturing.
This has been McLaren's working principle with all of its key technology suppliers: McLaren vision and design experience matched to the suppliers' specialist expertise in manufacturing leading-edge components, whether on powertrain, suspension, or chassis. The result is 'pure McLaren' – no
components in the 12C can be found in any other car, from engine to switchgear.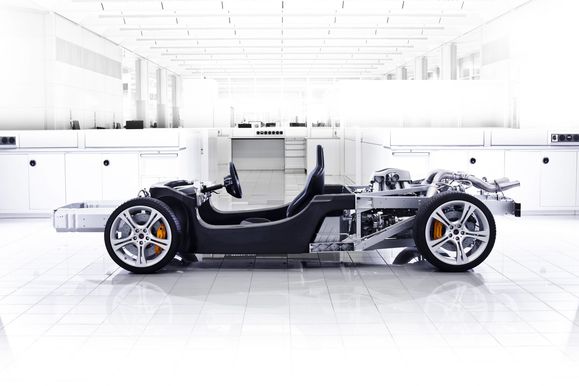 The MonoCell is produced in one piece through the Resin Transfer Moulding (RTM) process. The result is a lightweight, hollow, yet very strong and predictable structure.
The production process begins by loading dry carbon fibre into a complex 35-ton steel tool before it is pressed together, heated and then injected with epoxy resin. Using a steel tool is new to the manufacturing process: historically, carbon chassis' have been formed in 'soft' tooling of composite materials, which adds production costs and time. The subsequent post-curing process hardens the resin, and the MonoCell then enters a booth where key surfaces are machined with great precision in preparation for vehicle assembly. The process between forming and curing produces the MonoCell as a hollow structure, and is the key to the chassis' combination of strength and light weight.
Once complete, the MonoCell is placed into a unique McLaren-designed test rig and subjected to high stresses, in order to prove that each part is capable of meeting exacting performance standards.
Looking back, the carbon chassis of the McLaren F1 was produced manually and took up to 3,000 hours to complete each unit. The bonded carbon chassis of the SLR reduced that manufacturing time ten-fold. The new carbon manufacturing process developed for the 12C will mean the MonoCell can be produced in a four hour cycle. Investing in this process means McLaren Automotive is making carbon a reality to sports car enthusiasts seeking the ultimate in lightweight and safe chassis construction, at a price point more affordable to a wider market.
Claudio Santoni, Function Group Manager for Body Structures at McLaren Automotive, said: "With the carbon MonoCell, the 12C offers owners more than just exceptional occupant safety. It is incredibly light, which helps reduce the 12C's C02 emissions and improve fuel efficiency. For the same reason; acceleration, braking, changes of direction and vehicle stability are all significantly improved. Using a carbon composite means we can manufacture the MonoCell with aerospace industry levels of precision, which is fundamental to accurate dynamic suspension geometry control."
Source: Official press release - February 14th 2011.