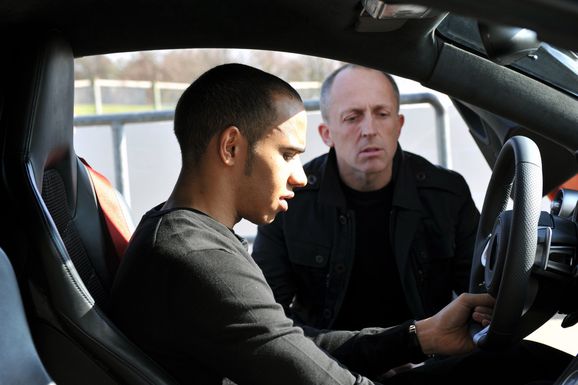 At the IDIADA and Nardò proving grounds, McLaren Automotive has ongoing access to dynamic platforms, handling and high speed circuits, and challenging local roads on which to test a number of 12C performance attributes. Subjective attributes appraised include: vehicle design and ergonomics; interior comfort and richness; ride and handling; steering; braking; noise and vibration harshness; engine; transmission.
Mark Vinnels, Programme Director at McLaren Automotive said: "We have benchmark tested every competitor model to the 12C and, as a package, I believe our car is unmatched in every respect. We have higher power, better structural performance through the 12C's carbon MonoCell, and the level of refinement in its ride quality is outstanding."
Objective, data-based appraisals are undertaken using a data-logging system developed by McLaren Electronic Systems Ltd (MESL). The HSL-500 high speed data logger is fitted to several prototype 12Cs and records data at rates up to 400kHz. The core of this system is used by the Vodafone McLaren Mercedes Formula 1 team, but is stretched further on the 12C to cope with close to 20 ECU systems spread over two CAN bus systems. The data logger can be configured to log over 1,000 channels of data and is ideally suited for vehicles requiring a large number of data to be simultaneously tracked from multiple channels. This includes cars that are dedicated to dynamic and thermal testing. In addition to logging data from the 12C prototype's CAN bus network, data is recorded from close to 100 specifically positioned pressure transducers, lasers, accelerometers, displacement sensors, thermocouples, strain gauges and GPS devices.
Data logging has been imperative to the 12C development programme. Every development vehicle has been fitted with a MESL data logger to capture every moment the vehicle turns a wheel to ensure that the engineers can quickly analyse, identify and rectify any issues, as well as ensuring optimal development of the vehicle. Much of this input is then fed back into the simulation programme, and the process continues the real-world:simulation development cycle. Using the MESL system ensures the development programme maintains its swift pace, whereby modifications and technology calibration changes can be performed promptly to increase the performance and reliability of each and every vehicle.
Source: Official press release - February 14th 2011.