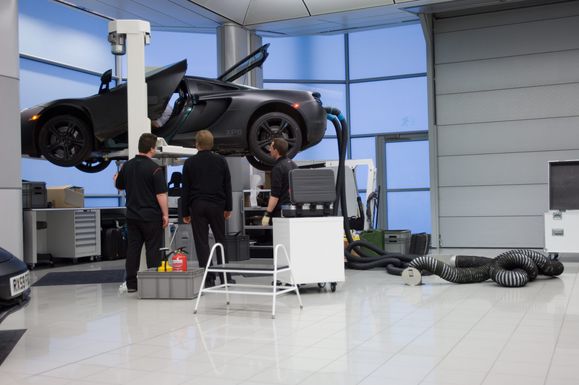 The 12C has been created at the McLaren Technology Centre in Woking, UK under the same roof as McLaren Racing and the Vodafone McLaren Mercedes Formula 1 team: 'performance' lies at the heart of the 12C and the McLaren Automotive team responsible for its design, development, engineering and now manufacture.
The 12C's performance is clearly influenced by the McLaren F1 and Mercedes-Benz SLR McLaren road car projects. Most notably, in the competitive step-changes seen on the 12C through carbon composite engineering, packaging, and aerodynamics. But the development and manufacturing teams are also peppered with technicians and engineers from iconic periods in McLaren's motor racing history: people with priceless experience in challenging design target-setting and innovative engineering problem-solving. And with an inherent ambition to win.
To name but three: Jim Chisman, a McLaren Automotive senior technician was a technician on Niki Lauda's race team and on the 1981 MP4/1 Formula 1 car; Metin Afiya, General Assembly Production Manager, was an engineer on the Le Mans-winning F1 GTR; Dick Glover, Technical Director at McLaren Automotive, enjoyed 12 years in McLaren Racing where he designed the Formula 1 simulator that has also been used in the 12C development programme.
Dick Glover said: "We're intensely proud of the 12C and how it stands against its key competitors: cars that are, in their own rights, some of the best sports cars the world has ever seen. The really exciting challenge for us was that to set new performance benchmarks against these cars, we had to introduce innovative new technologies. In that respect, we have worked technically like a Formula 1 team, where you are constantly trying to improve performance not against fixed parameters, but to win against competitors who are also constantly developing and improving.
"The 12C is a huge technical accomplishment, but also a car filled with the passion and dedication that comes with working at McLaren. I am very proud of the team behind its development," he concluded.
Starting from a clean sheet of paper, the 12C is the first 'pure McLaren'. From its conception, the 12C has been designed around the driver with a carbon chassis. Every one of the 12C's components is bespoke, and there to either enhance performance or contribute to the unmatched driving experience.
Source: Official press release - February 14th 2011.