Woking (UK), 18 April 2011 – McLaren Automotive is celebrating a 1-2 with the announcement of the MP4-12C as Vehicle Dynamics International Car of the Year and the company's engineers recognised as the Dynamics Team of the Year.
Vehicle Dynamics International magazine's respected awards jury featured professional engineers and senior motoring journalists from the USA, UK, and Europe. Juror, Matt Davis, said: "What technical director Dick Glover and his team at McLaren Automotive have pulled off on the MP4-12C is nothing short of inspirational. The dynamics in this case involve not just the innovative adoption of the McLaren Proactive Chassis Control with no anti-roll bars. It's the entire makeup of the car helping the Proactive system work its wonders."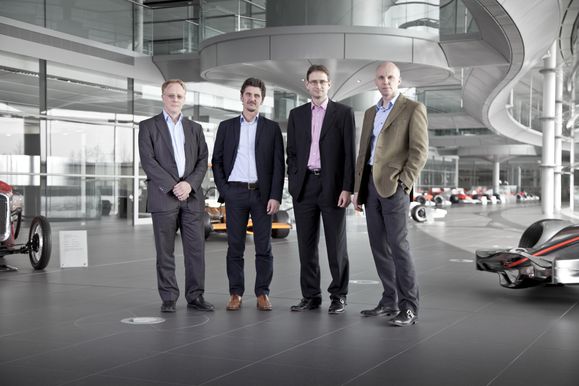 The awards were presented to Mark Vinnels, Programme Director at McLaren Automotive (Car of the Year) and Paul Burnham, Vehicle Dynamics Manager at McLaren Automotive (Dynamics Team of the Year). Vinnels said: "This is an important award for us. It is our first car of the year title, and recognition of everything we have put into this car: an obsession with reducing weight, a commitment to using carbon fibre in a revolutionary way, and a thorough understanding of the best ways to integrate our Formula 1 expertise. Our target was for the 12C to be the best car dynamically in all environments. That's the real breakthrough for us, that the car handles and rides beautifully on road or on track, in the hands of racing drivers or commuters, at 200 miles an hour or at 30. This has never been done before, and is great reward for our engineers and designers who have been passionate about delivering a ground-breaking new car."
Burnham said: "After moving into Automotive from McLaren Racing it was immediately obvious that everything was different, yet everything stayed the same. The dynamic challenges for a road car and a racing car are clearly poles apart – Jenson and Lewis never complain about ride quality! Yet, the integration of Formula 1 development technology, engineering know-how and a passion to win in the road car division was manifest. Whether in the simulator, on roads in every continent, or on the world's most challenging test tracks, our engineers have pushed beyond the normal rules to deliver a high-performance, lightweight, comfortable and highly efficient sports car. This award is great reward for their endeavours."
The two awards followed Vehicle Dynamics International's sister magazine Testing Technology International's presentation to McLaren Automotive in its 2010 awards. Dick Glover, as McLaren Automotive's Technical Director, was presented with Person of the Year for his integration of Formula 1 technologies and processes into the 12C's development; specifically 24-7 testing programmes, the use of simulation in development, and materials research.
Having led the McLaren Automotive engineering team since moving from McLaren Racing in 2007, where he led the team that designed the simulator that is used for McLaren's Formula 1, GT3, and road car development, Glover now moves to a new role at McLaren Automotive as Director of Research. He will lead the development of new technologies, materials and production processes that will keep McLaren's road cars at the pinnacle of the sports car market and the cutting-edge of vehicle design.
Glover said: "I am very proud of the 12C. To integrate Formula 1 in a relevant and beneficial way to a road car is a huge challenge and, arguably, has never been done before to this level. I am looking forward now to our future road cars and directing the company towards innovative new design solutions for all aspects of the car from powertrain to materials to aerodynamics. It really is the dream job."
Replacing Glover as McLaren Automotive's Technical Director is Carlo Della Casa, who takes over after a successful 18 year career at Ferrari where he led various teams in vehicle development, V8 engine development, and chassis development. Della Casa takes responsibility for McLaren Automotive's engineering programme on its future range of high-performance sports cars.
Della Casa said: "It is a great privilege to be working with such a dedicated, passionate and skilful team. With Formula 1 under the same roof, McLaren F1s on display in our headquarters, and 12Cs in production below my office, it is impossible not to be inspired every day. I hope the results of that inspiration are seen in our future cars, whether in their speed, dynamics, efficiency, or sheer beauty. To be leading this engineering team at McLaren at this time brings great responsibility and I hope that we continue to challenge and inspire the industry."