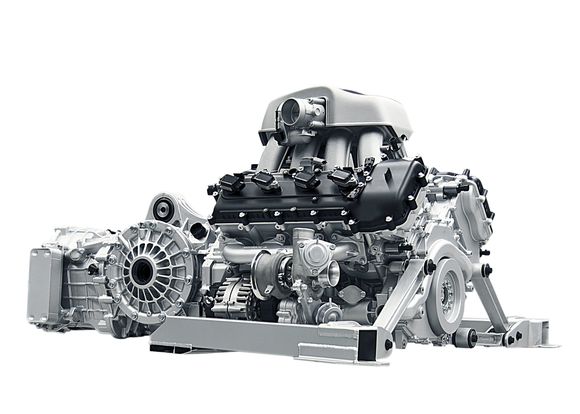 The unique new M838T engine powering the McLaren MP4-12C is a 3.8-litre twin turbo V8 engine, designed by McLaren Automotive.
Weighing 199kg (439lbs), the M838T features a dry sump lubrication system and a flat plane crankshaft, which has allowed McLaren Automotive's engineers to place the engine extremely low in the chassis, lowering the 12C's centre of gravity and in turn optimising the car's handling responses.
At the rear, high level exhaust pipes exit the car from a mixing box rather than a conventional silencer unit, saving weight. An optional Sport Exhaust system made from Inconel, an extremely heat-resistant nickel-chromium-based alloy, further reduces weight and enhances the exhaust note.
Richard Farquhar, Function Group Manager for Powertrain at McLaren Automotive said: "The decision to design and build a turbocharged engine for the 12C was taken early in the programme. We wanted low weight, low rev range tractability, potent mid-range performance and extensive high-rev reach. All that, and a level of refinement and efficiency from a V8 that perhaps you might not expect. I'm confident that the 12C powerplant delivers on all these aspects."
Mated to the M838T is a dual clutch, seven-speed 'SSG' transmission. Using the Active Dynamics Panel situated in the centre console of the 12C's cockpit, the characteristics of the SSG transmission can be switched through three different settings: Normal, Sport and Track modes. Each provide a progressive immediacy of gear shift, operated through finger-tip controls mounted on a rocker behind the 12C steering wheel: upshift by either pulling with the right hand or pushing with the left, and vice versa to downshift. This 'one-hand shifting' principal, and the satisfying mechanical 'click' on gearchange, is reminiscent of the shift mechanics introduced and still used in the Formula 1 cars.
The SSG transmission also features a 'Pre-Cog' function. By applying moderate pressure to the shift control the driver is able to pre-load the clutch, thereby decreasing latency to virtually zero when the paddle is fully depressed between the shift message being sent and action being taken by the transmission to swap ratios. Gear shift becomes virtually instantaneous.
The SSG system has another trick in its box. If the driver enters a sharp corner too quickly, requiring a strong braking action, there is every chance he will not be in the ideal gear for smooth acceleration out of the corner. If the left-shift control is depressed and held, instead of 'clicked', while under braking, the transmission matches engine speed to the correct lowest gear.
'Automatic' mode, 'Launch Control' and 'Winter' modes can also be selected on the Active Dynamics Panel, the latter changing all electronic functions to suit low grip conditions and delivering maximum driver aid and support. There is no traditional manual transmission offered; the two pedal layout offered further scope to create a narrow, lighter, and more comfortable car.
Source: Official press release - February 14th 2011.