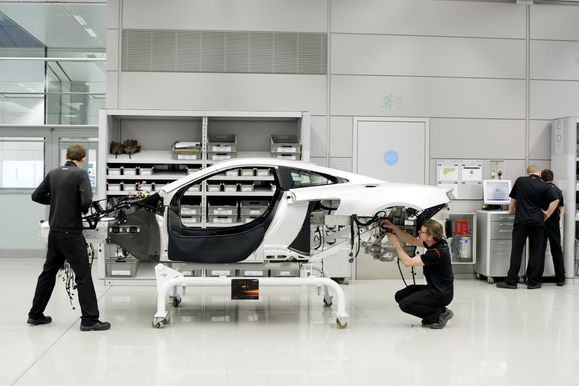 Ron Dennis, McLaren Automotive's Executive Chairman said: "We have approached the MPC planning and construction programme in the same rigorous, detailed and challenging manner as we would start a Grand Prix season or as we have managed the research, development and launch of the new McLaren Automotive car company.
"Every detail has been considered and solutions resolved, whether that is on the production facility's timing and layout, the local sensitivities for the impact of the new facility, or how we deal with details such as keeping the site and surrounding roads clean and as traffic-free as possible."
Construction of MPC started on Monday 1 March 2010, following a rigorous planning process that took into account all local concerns over the MPC's impact on traffic, jobs, and the environmental and visual impact. It will have a clear McLaren style and will espouse all the virtues of the MTC. It is due for completion approximately one year later, with the first 12Cs due to be built there in May.
As with McLaren's MTC headquarters, the MPC was designed by Fosters + Partners and care has been taken to ensure that the building fits perfectly into its environment. Linked to the MTC by a subterranean pedestrian tunnel, production engineers and planners continue to benefit from the instant access they currently enjoy to the design and engineering teams at McLaren Automotive and McLaren Racing.
Development of the MPC reflects McLaren Group's approach to innovation in manufacturing and engineering. MPC will feature a General Assembly area similar in specification to the existing MTC production area; clinical precision and remarkable cleanliness are guaranteed. Test zones including a rolling road and monsoon wash are housed adjacent to a cutting-edge paint facility, and may be viewed from a mezzanine balcony at one end of the MPC assembly hall.
The 32,000-square metre two-storey MPC is located to the south-east of the MTC, sharing a common language of details and materials: the new building is clad in aluminium tubes, the rounded corners of its rectilinear plan echo the curves of the MTC and the entrance, echoing the existing building, is a circular glass drum beneath the overhang of the roof canopy.
At just over seven metres high and embedded in the gentle incline of the site, the MPC is sensitive to its rural setting and will not be visible from the nearby road. Further screening will be provided by the extensive planting of trees and excavated material will be used to conceal the building within the greenbelt site. The new building is also designed to be sustainable – the MTC uses the lake for cooling, so the roof of the MPC will support this system, collecting rainwater to complement a low-energy system that utilises displacement ventilation.
Source: Official press release - February 14th 2011.