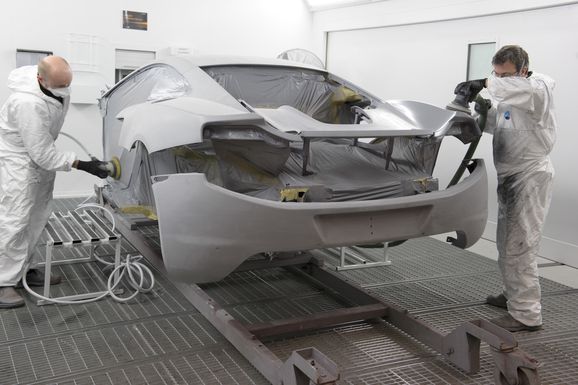 WOKING, UK (02 February) – Following a successful public world debut at Goodwood Festival of Speed, and a series of exclusive presentations to prospective customers and media across the globe in 2010, the first McLaren MP4-12C high-performance sports car has begun production at the McLaren Technology Centre (MTC) in Woking, England.
McLaren Automotive plans to build up to 1,000 12Cs in 2011. Most will be manufactured in a bespoke new £40m McLaren Production Centre, which is due for completion in May on a site adjacent to MTC. However, 'Chassis 01' is being built in the existing MTC production facility, where outstanding quality and highly efficient production methods have been fine-tuned since the Foster + Partners-designed building opened in 2004.
The innovative 12C was first presented to the public at the famous Goodwood Festival of Speed in southern England in July 2010, prior to a North American debut at the Pebble Beach Concours d'Elegance in August. 12Cs were then presented at exclusive events to prospective customers and media around the world as McLaren Automotive toured many of the cities that will form a network of 35 retailer launch locations.
Antony Sheriff, McLaren Automotive Managing Director said: "Meeting our prospective customers at launch events around the world, from Dubai to Cape Town, Paris to Los Angeles, has filled us with inspiration. There is genuine desire for McLaren to be launching our own range of sports cars, and an exciting appreciation of what McLaren stands for: innovation, technology leadership, and a winning mentality.
"In five years, the MP4-12C has evolved from a concept we developed in our own Formula 1 simulator, to a groundbreaking high-performance sports car offering unique technologies and outstanding dynamic performance. It has been an intensive development programme, but now the fun really begins as our future owners look forward to taking delivery of their 12Cs.
"Feedback from our customers shows they understand McLaren Automotive is as committed to delivering a high quality sports cars and a fantastic ownership experience as a our Formula 1 team is to winning races. With 'Chassis One' now in production, our new network of 35 retailers in 19 countries worldwide is ready to deliver on this promise."