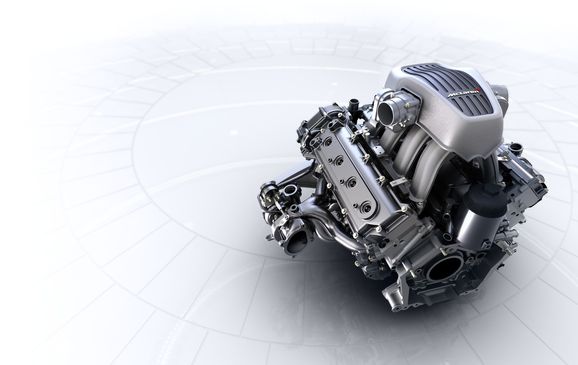 The McLaren MP4-12C is powered by a twinturbocharged, 3.8 litre 90_ V8 engine – the 'M838T'. This marks the start of a new era in 'core' segment sports cars – smaller capacity, lighter weight, higher efficiency and more economical power units. The engine has the highest specific power output in its segment which, when allied to its low weight carbon composite chassis, delivers exemplary power- and torque-to-weight ratios.
'M838T' is a unique McLaren power unit, developed specifically for the 12C. It is compact, lightweight, very stiff, and offers an uncompromising combination of very high performance and good driveability, with excellent economy and CO2 emission values.
Taking power and emissions in combination (measured by its horsepower to CO2 ratio), the 12C delivers its power at greater efficiency than any other car on the market with an internal combustion engine, including hybrids.
'M838T' features dual variable valve timing and produces around 600bhp and 600Nm of torque. A dry sump and flat plane crankshaft allow the engine to be placed extremely low in the chassis thereby lowering the centre of gravity and improving handling responses. It also features composite cam covers and intake manifolds, which reduce weight and heat transmission into the charge air, as well as Nikasilcoated aluminium liners for further weight reduction.
The McLaren engine revs to 8,500rpm, has quick transient throttle response and delivers its abundant torque throughout the rev range. A staggering 80 per cent of torque is available at below 2,000rpm, ensuring great driveability and no need to floor the throttle to deliver performance.
And it delivers a great soundtrack to highlight the engine's performance, flexibility and driveability. The sound of the engine has been thoroughly engineered through exhaust manifold design and tuning of the exhaust and intake systems to deliver a unique engine note.
The high level exhaust pipes exit through a mixing box, rather than a conventional and heavy silencer box. All parts of the exhaust system up to the mixing box feature sandwich layer heat-shielding that helps reduce heat from the engine bay. In just an 18mm gap, exhaust gas temperatures reduce from 900°C to 300°C.
The engine drives the rear wheels through two wet clutches and a McLaren-developed seven speed Seamless Shift dual clutch gearbox (SSG).
The Seamless Shift technology offers variable programmes ranging from 'normal' for road use and 'sport' for quicker changes still, right up to a lightning quick high performance mode. In addition an 'automatic' mode, 'launch control' and 'winter' modes can be selected, the latter changing all electronic functions to suit low friction conditions and delivering maximum driver aid and support. There is no traditional manual transmission offered; the two pedal layout offered further scope to create a narrow, and therefore light, car.
The 12C's SSG is a development on the automated and sequential manual gearboxes with paddle shifts that proliferate in the car market today. The character of the transmission will engage even experienced drivers with its responsiveness and its contribution to the whole dynamic package.
With minimal torque loss, there is none of the lurch, hesitation or unpredictability that characterise traditional automated-manual transmission systems.
Design of the SSG system was driven by a demanding mechanical package that not only reduced weight and improved dynamic control for the entire vehicle, but also delivered driver benefits.
It is lightweight and compact in design and positioned in exactly the best location. The input shaft lies very close to the output shaft to help position the entire powertrain low in the vehicle. Twin secondary shafts ensure any rear axle weight overhang is minimised and rear crash performance is uncompromised. The bespoke SSG is further complemented by an entirely new control system.
This obsessive attention to detail comes as second nature to McLaren, but is not just there to satisfy the engineers' passions. McLaren's designers have also engineered the system to work seamlessly with the driver.
The system reduces weight and benefits packaging targets, but also ensures that driving programmes and shift strategies take the driver's own inputs and uses them to directly control the engine's torque and speed to deliver performance, economy or comfort as requested.
Gears are changed using a Formula 1 style rocker shift that pivots in the centre of the steering wheel. It is actuated on either side of the steering wheel (pulling right changes up, pulling left down).
As with the McLaren Formula 1 car, a shift can be actuated either by pulling or by pushing on the rocker. The rocker moves with the steering wheel, rather than being mounted on the steering column, so that if a gearchange is needed while lock is being applied the driver does not have to fumble around to change gear.
The rocker itself incorporates an innovative feature created by McLaren engineers called Pre-Cog. The name stands for pre-cognition, literally 'foreknowledge'. The rocker on the 12C has two positions with a slightly different haptic (or feel) for each. The driver applies first pressure to the rocker and it informs the gearbox to get ready to swap ratios, thereby saving time – latency – between the message being sent and the gearbox being primed to act. The second pressure confirms that the gear should be changed and the torque handover is completed in milliseconds.
"What Pre-Cog actually does is initiate the shift process by priming the clutch and torque handover – it takes significant time out of the process,"explained Dick Glover, Technical Director McLaren Automotive.
"It's a little bit like the first pressure on a camera shutter button. There's no requirement for the driver to use it but it is more satisfying and engaging if you do. The SSG also promotes seamless shifting in which the driver doesn't have to reduce engine power at all – rather than the gearshift slowing you down, it actually speeds the car up by recovering the energy of the crank spinning as it drops engine speed," he said.
In practice the latency of the shift is virtually zero, the actual gear change time is very fast and the level of impulse can be varied according to the gearbox mode. Considering that McLaren was the first Formula 1 team to introduce seamless shift gearchanges into motor racing, it was a natural step to develop such a bespoke transmission to its sports car project.
Performances
0 – 200kph in 9.1s (8.9s on optional Corsa tyres)
CO2 emissions of 279g/km (equating to 24.2 EU mpg combined)
0 – 100kph in 3.3s (3.1s with optional Corsa tyres)
Top speed: 330kph (205mph)
100 – 0 kph in 30.5 m (100 ft)
¼ mile: 10.9s @ 135 mph
Dry weight (with lightweight options): 1301kgs / 2868 lbs
Carbon MonoCell chassis weight: 75kgs / 165 lbs
Power / Weight (lightweight options): 461PS / 455bhp per tonne.
Power: 600PS (592bhp) at 7,000 rpm
Torque: 600Nm between 3,000 – 7,000 rpm
Source: Official press release - Sept. 9th 2009.