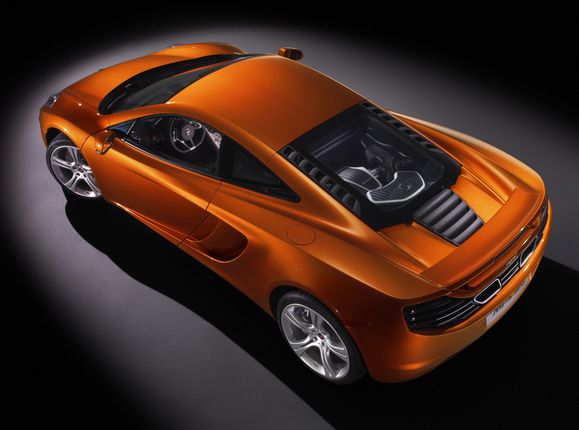 All the parts of the McLaren MP4-12C are bespoke and unique to this car. Everything from the engine right down to the tailor-made switches and buttons is pure McLaren: nothing has come from another manufacturer's parts bin.
The 12C is powered by a bespoke McLaren 'M838T' 3.8 litre, V8 twin-turbo engine producing around 600bhp, driving through a McLaren seven speed Seamless Shift dual clutch gearbox (SSG). It is targeting not only new standards for power and performance in its sector, but also class-leading fuel economy and CO2 emissions; supported by McLaren's experience of active aerodynamics to aid cooling, grip, handling and road holding.
"The 12C is all about performance," said Sheriff. "And in McLaren, we have a very broad definition of performance. We don't just look at the traditional one-dimensional parameters like top speed, we focus equally on useable measures such as in-gear acceleration times, braking performance in all conditions, and efficiency of power delivery combined with the lowest possible fuel consumption and CO2 emissions. Sure, 12C is very fast, but it is also the most efficient, most driveable high-performance sports car in the world.
"In the more subjective areas of road-holding, handling, comfort, driver involvement and day-to-day usability, McLaren is achieving new standards for a mid-engined high performance sports car in this sector," he concluded.
Thorough engineering and market research led to concept development and a clear decision in favour of a mid-engined two door high performance sports car. Intensive work was carried out in the wind tunnel and the driving simulator to ensure that the new car would inherently have superb dynamic qualities.
Dick Glover, McLaren Automotive Technical Director, was closely involved with the development of these invaluable tools during his time with McLaren's Formula 1 race team.
"There are so many examples of race car process and technology transfer in the 12C," claimed Glover. "The car owes much to McLaren's experience and success in motor sport. The advantage of technology transfer is only one element; speed of decision-making and development, F1 processes and people all make an important contribution.
"Brake Steer, for example, is a technology we pioneered on our Formula 1 car back in 1997. It helps to dial out understeer on entry to a corner and improves traction on the way out. Another is the Pre-Cog function on the gearshift rocker that effectively primes the gearbox ready for the next change, ensuring a more satisfying and faster gearchange. This is a high performance sports car with race car genes and teamwork at its heart."
Source: Official press release - Sept. 9th 2009.