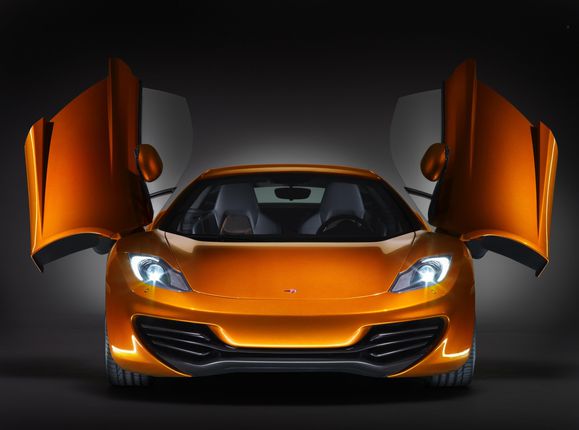 The heart of the new car is the Carbon MonoCell. McLaren pioneered the use of carbon composite construction in the 1981 Formula 1 MP4/1 model and set a trend that all Formula 1 teams have followed. The company brought carbon fibre to road cars for the first time with the 1993 McLaren F1 and then built on this experience with a carbon fibre chassis and body on the SLR manufactured to the same exacting standards, but in higher volumes.
So, until now, carbon chassis have remained the preserve of the most expensive exotic cars; a purchase for the super-rich where costs are driven by the complexity of carbon fibre chassis design and build.
The 12C changes this by introducing the advantages of carbon composite - light weight, high strength and torsional rigidity, and longevity – to a more affordable sector through its revolutionary engineering as a one-piece moulding. Never before has a carbon fibre chassis been produced this way.
The 12C MonoCell not only brings dynamic benefits, but also offers fundamental engineering opportunities that form the basis of the car's unique character. It has been designed to allow a much narrower structure overall which in turn contributes to a more compact car that is easier to position on the road and more rewarding to drive.
Not only is the 12C unique in its class by offering carbon technology, it also has the highest specific power output as well as extraordinary power- and torque-to-weight ratios. Furthermore, the Proactive Chassis Control system offers groundbreaking handling and ride comfort while an intense focus on occupant packaging offers new levels of comfort and everyday usability.
Antony Sheriff explained. "With the 12C we are redefining the relationship between performance and practicality, as well as performance and efficiency, achieving leading positions in both. We have designed this car from the inside out. We have a saying in McLaren – 'everything for a reason' and the 12C will surprise people in many ways.
"A clear illustration of its special qualities is in the efficiency of its power delivery. With the 12C's power output of around 600hp and its low CO2 emissions, it delivers the highest horsepower to CO2 ratio of any car on the market today with an internal combustion engine...and that includes petrol and diesel hybrids," Sheriff concluded.
Source: Official press release - Sept. 9th 2009.