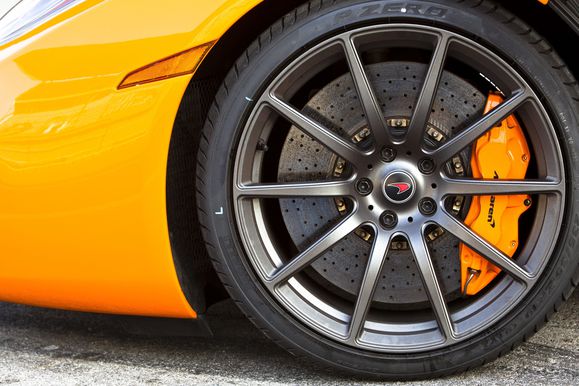 The wheel and tyre combination selected for the 12C is critical to performance and handling agility. The front wheel diameter is 19" to ensure the sidewall height is large enough to ensure good impact isolation, and maintain excellent aerodynamics.
Standard tyres on the 12C are bespoke Pirelli PZero's, with latest generation tyre technology. The 12C's ProActive Chassis Control system has allowed the Vehicle Dynamics team to use a softer compound than is normal on high performance sports cars to achieve extra grip. Pirelli PZero Corsa 'sport' tyres are available as an option for use at higher temperatures and on circuits. These give more grip in normal conditions than the PZero tyres, but are less effective than the standard tyres in standing water or temperatures below 7°C.
The standard forged aluminium bell and cast iron brake configuration is bespoke to the 12C and has been optimised for weight, saving around 8 kg from a standard cast iron option that was considered. Naturally, it gives excellent performance in terms of braking bite and feedback. As an upgrade, Ceramic Composite Matrix (CCM) brakes may be specified.
Source: Official press release - February 14th 2011.