27 mars 2011
7
27
/

03
/

mars
/

2011
23:30
Formula 1 engineers obsess over light weight, but carbonfibre isn't the only weight-saving trick under the MP4-12C's skin, as Steve Cropley discovers.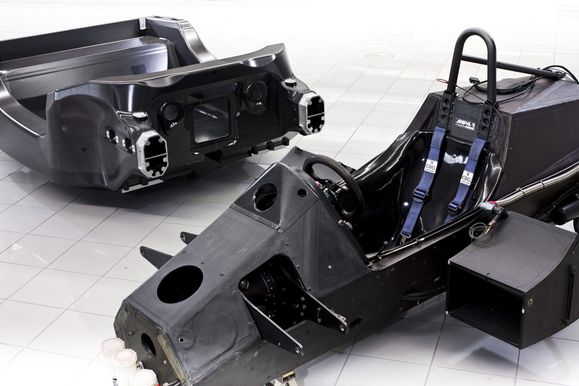 On one of the new McLaren supercar's lightest on most important components, a cross-car beam cast in magnesium alloy that supports the dashboard and steering column, there's a small McLaren emblem, spark-engraved into the metal.
When a car is fully built, its owner will never see it, but chief engineer Neil Patterson points it out on a half-cut chassis. "See that?" he says. "It saves 2.4 grams. That might not sound a lot, but it's an important symbol. It reminds us every day how important it is to save weight in this car."
Patterson claims the whole car has been built using what engineers call the Five Per Cent Rule. "You sign a part off," he says, "and then you find another five per cent weight saving. In a whole car, it really adds up.
Such passion and attention in details is evident in every part of McLaren's new MP4-12C. You get the flavour of it from any of the 300 people who have worked for four years to bring it to life – but none more so than Anthony Sheriff, McLaren Automotive's managing director.
No one knows better than Sheriff that there is already an impressive selection of £160,000 mid-engined sports cars on the market. An inveterate sports car buyer and former senior executive with the group that controls Ferrari, Sheriff knows McLaren faces a tough battle to create market space for space for its forthcoming range of up to four mid-engined models, the first of which is the 12C. /…/
"Being as good as the others isn't the answer," says Sheriff. "We've designed everything to be the best. There are no carry-over components in the MP4-12C. They just wouldn't be good enough."
Such determination is admirable, but one question still burns: how do you go about beating Porsche and Ferrari at their own game? Sheriff says it starts with a refusal to accept compromise. "I call the 12C our 'and' car,' he says. "Compared with its rivals it is stronger and lighter. It's small outside and spacious inside. It has better handling and is more comfortable. One advantage doesn't affect another. Above all, the 12C has more performance and better fuel efficiency; with nearly 600 horsepower on tap it's the most powerful car in its class, yet its CO2 output of just 279g/km means every horsepower is produced more efficiently than virtually any car on sale – petrol, diesel or hybrid."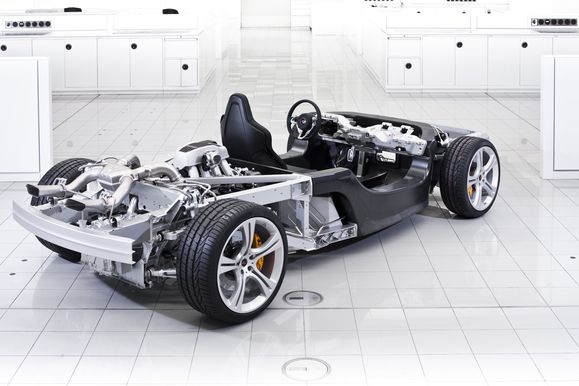 Structural layout
Width is a key difference between the MP4-12C and its rivals, according to managing director Antony Sheriff. Both the 12C's body and its front and rear tracks are 25mm narrower than those of the Ferrari 458 Italia, reflecting Sheriff's belief that controlling overall width makes a supercar more capable on the road.
The 12C is remarkably close in most major other dimensions to the 458, whose engineering brings together knowledge Ferrari has amassed in building mid-engined V8s in the 40-odd years since the Dino. But the McLaren has advantages in power (5.2 per cent) and torque (11.1 per cent). And its 20mm longer wheelbase (for 18mm less overall length) reflects the unusual roominess of its cabin, accessible through what McLaren calls dihedral doors.
McLaren's official dry weight of 1338k appears to make it 50-100kg lighter overall than the Ferrari, an advantage due mainly to the weight-saving benefits of its central carbonfibre tub. /…/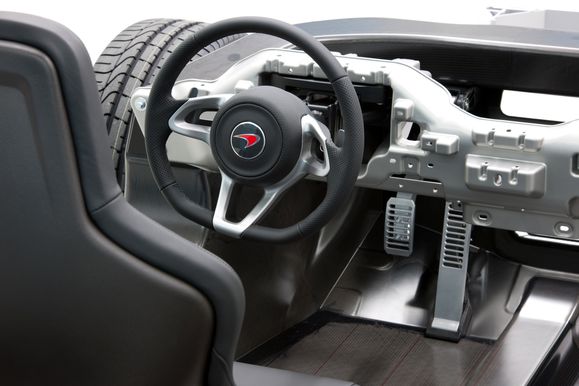 Chassis, suspension
Carbon also delivers important packaging advantages. McLaren engineers were determined that the 12C should have an uncompromised driving position and class-beating visibility.
"In aluminium chassis-frame cars, the need for a bulky structure behind the wheel arches is likely to push the pedal box inwards," says chief engineer Neil Patterson, "while a bulky heating/ventilation system, usually from another production car, pushes the seats and steering column outwards. The result is a severely compromised driving position. The 12C's compact carbon wheel arch structure and its specially built ventilation system allow the pedal box, steering wheel and seat to be perfectly aligned."
Suspension is by double wishbones and coil springs front and rear, which sounds conventional. But the McLaren is unique in using an electronically controlled, interactive damping system – McLaren calls it Proactive – which provides the strong anti-roll, anti-dive and anti-squat qualities a 200mph supercar needs, while permitting supple bump absorption when appropriate. /…/
The dampers are hydraulically interconnected front to rear, and also from side to side. Through a system of sensors the car detects squat, dive, roll or warp (a kind of diagonal corkscrewing motion) as they happen and instantly configures the car to cope. Pressure (generated by the power steering pump when the car is travelling in a straight line and therefore doesn't need steering assistance) is retained in Citroën-style high-pressure gas spheres and then fed to the appropriate corner(s) to tame any undesirable movements. Engineers say the car is extremely stable but its ride comfort is "out of this world."
Engine, transmission
Powertrain chief Richard Farquhar says the idea of giving the new McLaren a comparatively small and light twin-turbocharged V8 is as fundamental to its make-up as the carbonfibre tub. In the earliest days a large, normally aspirated AMG-derived engine was briefly considered, but when Mercedes and McLaren decided to go their own ways – after which today's MP4-12C concept was framed – it became obvious that a lighter, more compact turbocharged engine made a more modern and efficient solution. A bespoke 3.8-litre twin-turbo V8 was designed at McLaren, and a deal struck with Ricardo, the British-based technology company, to develop and build it for production.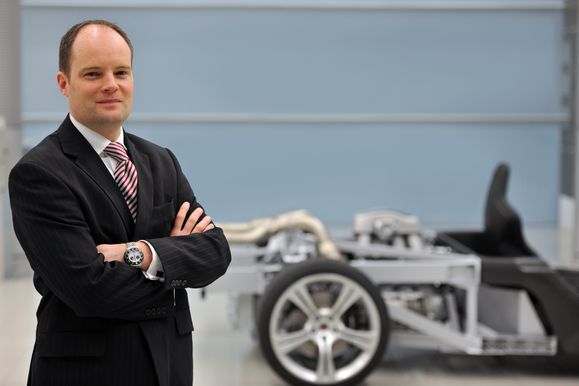 "Once we had laid out the car's major dimensions, we knew no production-based engine would have worked in the space available," says Farquhar. "The choice of a V8 was easy; it came from our race heritage. A V10 would have been longer. The 3.8-litre capacity gave a big enough bore size for good low-end torque, but was small enough to be compact and efficient."
Installed in the car, the engine looks tiny, and very low because of its dry-sump lubrication system and flat-crank configuration. It is a four-valve-per-cylinder design with two chain-driven overhead camshafts per bank. The whole thing weighs just 150kg and it uses a compact mounting system that allows it to sit close to the bulkhead ("We save 30mm of wheelbase that way," says Farquhar).
The ancillaries are driven by shafts running low along the sides of the engine, and the V8's valley is well utilised, too; the oil/water heat exchanger is in there, plus an oil filter and a vacuum reservoir. The V8 is fuelled by port injection; Farquar says direct injection simply isn't needed for the engine to achieve its objectives: 600ps (592bhp at 7000rpm) and 600Nm of torque (443lb ft between 3000 and 6500rpm). He agrees, however, that direct injection "provides us with a future opportunity". In all, there are 34 ECUs on board.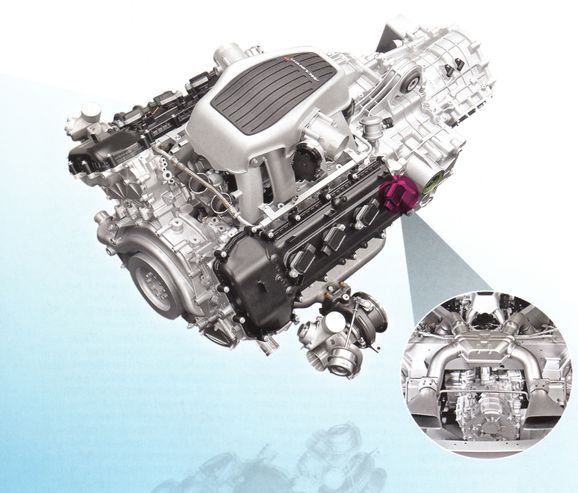 The exhaust system, usually heavy and bulky in normally aspirated supercars, is remarkably compact. It consists of a small 'log' manifold on each side in cast stainless steel, connecting to a small, close-coupled catalyst, with another catalyst a little further along. The two main pipes connect in a 'mixing box', just inside the rear body, and feed two high-mounted outlets. An even lighter sports version is available, made from a nickel chromium-based alloy used in Formula 1 systems. Occupants hear the engine via a tuned sound generator in the inlet system that directs and varies sound into the cabin according to the chosen engine/transmission mode. The car can be muted while cruising, but highly vocal when used in anger.
The gearbox is a seven-speed twin-clutch unit with Graziano internals and a McLaren casing. It is specially designed to take advantages of the engine's position in the chassis and deliver an unusually low centre of gravity for the entire powertrain. The driver actuates gearshifts via a race-style paddle system, which rocks on a central fulcrum and allows one-handed gearchanging up or down, a carry-over from McLaren's F1 cars.
Another F1 tweak is Brake Steer, which forms part of the 12C's chassis stability system to tame understeer and control wheelspin. In the 12C this is actually more sophisticated than the original F1 system, which used a second brake pedal and was banned when rivals complained. McLaren says Brake Steer has the same effect as a torque-vectoring diff but saves around 20kg.
There are two other important driver aids. By putting a gentle initial pressure on a gearchange paddle, a driver can activate a 'pre-cog' function that pre-loads the clutch, ready for a quicker gearchange. There is also a handy restorative function: if the driver brakes hard and forgets to change down, he can pull and hold the left paddle to summon assistance. When he accelerates away, the car is in the right gear, and at the right revs. Naturally the 12C also has the Automatic, Winter and Launch Control modes one finds in rivals.
Aerodynamics
McLaren's aero expert, Simon Lacey, says the MP4-12C's major styling features matched its aerodynamic goals well from the project's beginning. Even the car's 'waisted' shape helps present the main engine intakes to undisturbed air. Lacey cites four main development areas: the front cooling ducts, the radiator side intakes, brake cooling, and the core task of increasing downforce and decreasing drag.
Detail work has included tuning airflow into and out of the wheel arches, and making sure all intakes are fed and all outlets exhaust. The car has "a nice flat bottom" and an effective diffuser, says Lacey, and can develop 100kg of downforce at 150mph, spread over the car in proportion to its static weight distribution (43 per cent front, 57 per cent rear).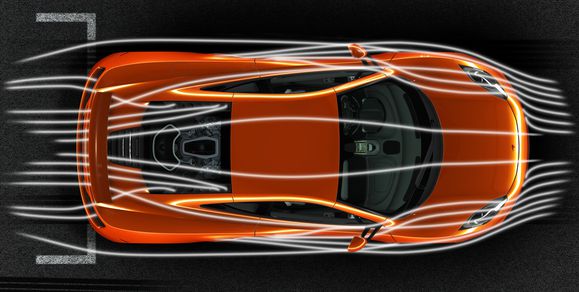 Detailed aero development has brought important results. An afternoon spent with plasticine, reshaping the exterior mirror supports, brought a wind noise reduction "anyone would notice". Another afternoon spent changing the shape of the windscreen wiper arm achieved the same thing. McLaren isn't keen to divulge an overall drag factor for the 12C, but claims good results. "We reckoned the car to be draggier," says Lacey, "but it's spot on the original targets."
The 12C's headline aero feature is its air brake, a neat flap on the rear deck that deploys rapidly under heavy braking. Shaped like an upside down aeroplane wing, it rises to 57 degrees but is cleverly designed so that airflow acting on its base actually helps it erect itself, saving nearly 50 percent in the weight of the mechanism. The wing also helps to counteract the heavy nosedive that comes with rapid stops, keeping the car stable and allowing the rear wheels to accept more brake effort. "It's a great system," says Lacey – "a no-brainer in a car like this."
Wheels, tyres
Programme director Mark Vinnels has a simple recipe for success: "There's no substitute for miles behind the wheel." Mindful of the ride deficiencies ultra-low-profile tyres often bring to cars like this, McLaren specifies 19-inch front wheels for the 12C, "to ensure the sidewall height is large enough for good impact isolation". The car will wear specially made Pirelli P Zeros that use a softer compound than usual because the Proactive damper system exerts better control than conventionally suspended models. The rear wheels are 20-inchers, wearing mighty 305/35s.
Article published in Autocar special edition dedicated to the MP4-12C