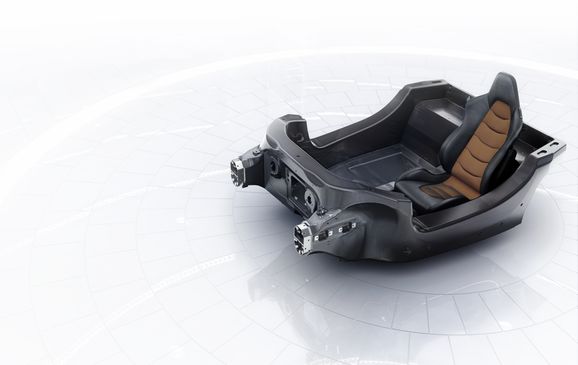 Light weight and performance are defining philosophies at McLaren. But outright power alone is of little significance if a car's weight saps output or if that power is unmanageable and compromises the driving experience or results in unacceptable emissions.
Fundamentally, it is critical to keep weight as low as possible. Increased customer demands for safety and advanced features all mean that shaving weight is ever more difficult. However, at McLaren saving weight remains a passion and at the heart of the McLaren MP4-12C is a carbon fibre composite chassis: the Carbon MonoCell.
This revolutionary structure is the automotive version of a McLaren innovation that started with Formula 1 back in 1981 and delivers both weight savings and performance gains. It is a technology cascade in which McLaren brought carbon composite technology from the aerospace industry to make the MP4/1 F1 car, the first Formula 1 car to benefit from the strength, weight and safety of carbon fibre.
McLaren's Formula 1 carbon fibre technology then offered the company the opportunity of applying its expertise to road car applications. The first ever road car to be constructed of this material was the McLaren F1 produced in 1993, albeit in small numbers. The F1 was followed by the Mercedes-Benz SLRMcLaren that also shared this rare expertise.
Only a handful of other cars in the market offer such technology today and all of them lie in the 'ultimate' segment. No manufacturer has brought the advantages of carbon composite technology to a more affordable sector of the market. But the 12C does, through engineering passion and a relentless pursuit of efficiency.
So, McLaren did it first with the F1, the world's fastest car for many years, then in the highest volume with SLR, which almost doubled the volume of the next highest produced carbon fibre-based high performance sports car by selling over 2,100 units. Now, through revolutionary one-piece moulding of the MonoCell, McLaren brings a carbon composite chassis down to the 'core' category, where currently only traditional metal structures are offered.
The advantages this technology brings are light weight, high torsional rigidity, a very strong safety cell, low perishability, ease of repair and extreme dimensional accuracy.
The 12C MonoCell weighs less than 80 kg. Carbon fibre contributes to the car's low overall weight and it forms the structural basis for the whole car. The tub's torsional rigidity is considerably stiffer than a comparable alloy structure.
This inherent lack of flex means the unique front suspension system, which is mounted directly onto the MonoCell, requires less compromise for flex of the suspension itself. Therefore, it is easier to develop the unique balance between fine ride and precise handling that McLaren has targeted. The MonoCell also offers greater occupant safety. It acts as a safety survival cell, as it does for a Formula 1 car.
Carbon composites do not degrade over time like metal structures that fatigue. One is able to get into a 15-year-old McLaren F1 and there is none of the tiredness or lack of structural integrity that afflicts traditional cars that have suffered a hard life. The 12C will feel as good as new in this respect for decades.
And in the event of an accident, the light weight aluminium alloy front and rear structures are designed to absorb impact forces in a crash and can be replaced relatively easily. Aluminium extrusions and castings are jig welded into the finished assembly and bolted directly to the MonoCell. Cars with full aluminium chassis use their structure to absorb and crumple on impact, which implies more fundamental damage (and expense) to the whole structure, including the passenger cell, in a major accident.
McLaren has pioneered a new carbon fibre production process that allows the MonoCell to be produced to exacting quality standards, in a single piece, in only four hours, compared to the dozens of carbon components (and dozens of production hours) that normally feature in a carbon fibre chassis structure. This naturally brings huge efficiency and quality benefits. The MonoCell project is managed by Claudio Santoni, McLaren Automotive Body Structures Function Manager.
"It was clear that we needed to develop a car with a carbon fibre structure. After all, McLaren has never made a car with a metal chassis!" said Santoni.
"The whole 12C project is based on the concept of the MonoCell. This means that McLaren can launch into the market with greater performance than our rivals and a safer structure. To put it into perspective, if the costs and complexity of producing a McLaren F1 carbon fibre chassis are taken as a factor of 100, the 12C chassis production costs are reduced to a factor of seven or eight, without degrading the strength or quality of the carbon fibre structure. And this step-change in technology could make its way into more mainstream cars," he concluded.
Getting the production process right is the result of five years of extensive research. Now that the process is perfected, it allows McLaren to produce the MonoCell repeatedly at very high quality.
"Not many people in the automobile world work to standards demanded by the aerospace industry," claimed Mark Vinnels, McLaren Automotive Programme Director.
"Our ability to analyse and predict the performance of carbon fibre is in line with aerospace technology and is truly world class, particularly in the sense of predicting failure, which is obviously key in managing crash events and passive safety.
"We can now predict failure levels at individual ply level in the carbon composite and the results are absolutely correlating with what we predicted," he concluded.
The finished MonoCell emerges in one piece and this new process could revolutionise car design. It avoids the need to bond different parts to make the whole structure, as with all other carbon fibre cars. It is hollow, saving further weight, and the integrity of production ensures the location of suspension and ancillaries is accurate to the finest of tolerances.
Source: Official press release - Sept. 9th 2009.